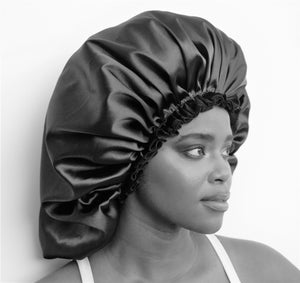 A standard bonnet is frustratingly small, making it virtually impossible to contain larger hairstyles, braids, dreadlocks, afros, or rollers. 
Super Crownz  has just released a new hair accessory that's great for large hair-during bedtime!
The 3XL Satin Bonnet by Super Crownz is a bonnet that is large enough to cover all of your hair, boasting three times the volume of a standard cap. Made with a strong medium-weight satin to contain even the biggest looks, you can sleep with confidence knowing that your style is safe. Get your cap today and #ProtectYourDo!
Made from premium, medium-weight satin 
Oversized design is perfect for all hair lengths and thicknesses
Caps are black satin with an elastic band to secure on the head
Perfect for sleeping/traveling